Greek Chicken Pasta with Olives and Feta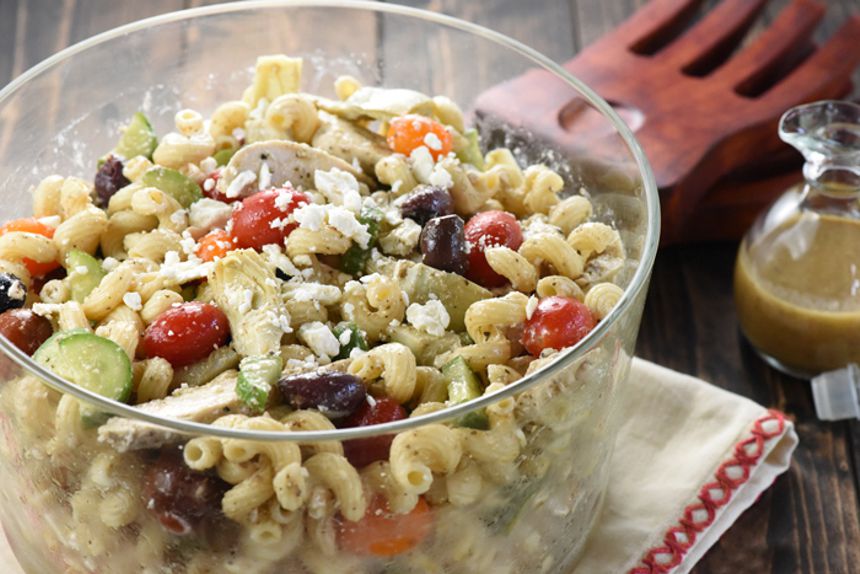 Serves 6
For the chicken:
2 medium skin-on, bone-in chicken breasts
1 teaspoon salt
1/2 teaspoon pepper
2 teaspoons chopped, fresh oregano (see this post on converting to dried oregano)
2 small (or one large) cloves of garlic, minced
1/2 teaspoon lemon zest
1 1/2 tablespoons olive oil
For the vinaigrette:
Juice of 2 lemons (about 1/4 cup)
1 teaspoon salt
1/2 teaspoon pepper
1/2 cup olive oil
For the pasta:
1 pound fusilli or other pasta
12 ounces marinated artichoke hearts, halved or quartered into bite-sized pieces
1 1/2 cups pitted Kalamon olives
8 ounces feta cheese, crumbled or cut into small cubes
1 teaspoon chopped, fresh oregano
Handful of chopped, fresh parsley
Preheat the oven to 425°F. Pat the chicken breasts dry and lay them on a baking sheet lined with aluminum foil or parchment paper. Mix the remaining ingredients together to form a paste, and rub it over both chicken breasts, making sure to get some of the mixture underneath the skin and in any folds of the meat. Sprinkle with extra salt and pepper.
Roast chicken for about 25 minutes, until cooked through (the skin does not need to brown). Remove and allow to cool slightly, then peel back the skin, remove the meat, and shred it into bite-sized chunks. Try to scrape as much of the seasonings as possible off the skin and bones, so you can add it to the pasta along with the chicken.
While the chicken is cooking, make the vinaigrette. Mix the lemon juice with the salt and pepper, then slowly stream in the olive oil while whisking vigorously. Set aside.
Cook the pasta in salted, boiling water. While it's cooking, combine the artichoke hearts, olives, and shredded chicken (plus any juices and spices on the cutting board) in a large bowl. When the pasta is al dente, drain it and add it to the bowl. Pour over the vinaigrette, then add the feta cheese. Mix everything together, then sprinkle in the extra oregano and parsley, if desired. Add salt and pepper to taste.
Recipe source: www.thekitchn.com